Ecodisk™ Denit: what is it?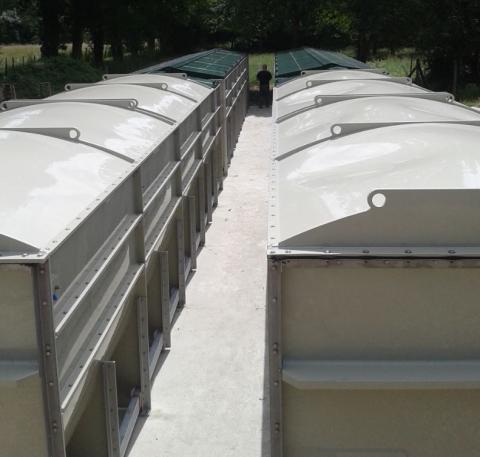 Ecodisk™ Denit is a wastewater treatment system developed by PMT and Veolia Water Technologies for the treatment of total nitrogen via denitrification. Specifically designed for the needs of TN regulations, Ecodisk™ Denit modules can be porposed in upstream and/or downstream of Ecodisk™ modules to reach a complete treatment of nitrogen from the influent wastewater.
 
Principles
Ecodisk™ Denit can also be fully integrated into a wastewater treatment system by a combination of pretreatment. A minimal screening is suggested to keep big particles. Pretreatment can always be enhanced like anoxic chamber or digester-settler structure.
Its working principle is quite simple but also efficient. In additon to Ecodisk™ system, the denitrification units are sealed and well isolated to create an anaerobic environment for the denitrifiers. Denitrification units are tested with pressure gauges in PMT workshop before the delivery and commissioning.
 
Ecodisk™ Denit: example installations
Projects containing river, lake or more globally closed stream discharge standards generally hold a TN regulation. Ecodisk™ Denit is quite commonly chosen for this projects as a standard solution . Some of the references include :
Ecodisk™ Denit in Brinon-sur-Sauldre for 1000 PE
Ecodisk™ Denit in Samonac for 160 PE
Contact
If you have any questions about our products and their application, please do not hesitate to contact us.
brochure
For further details on Ecodisk™ Denit,  please do not hesitate to download our brochure.
PMT and Veolia provide a turnkey service
Specialised in mobile water treatment units and fixed wastewater treatment plants, Veolia Water Technologies provides public authorities and private customers with ongoing assistance to make the most of Ecodisk™ devices. PMT's engineering teams can provide onsite assistance at any time in France, Germany and anywhere within Europe – whether it's an emergency repair or routine check.
Elsewhere in the world, PMT's customers can rely on the logistics of Veolia Water Technologies as well as a dense network of distributors, fully trained in the technical specificities of PMT products.
With Ecodisk™, your community or business can finally opt for a complete domestic wastewater treatment solution, which is 100% ecological and economical in terms of maintenance and energy consumption.