Ecodisk™ Solar: what is it?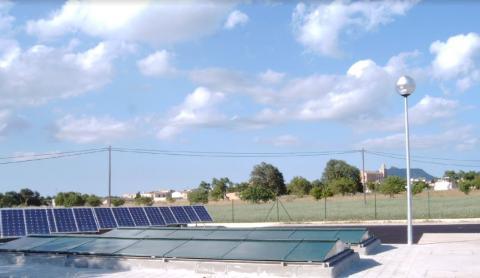 Ecodisk™ Solar is developed by PMT and Veolia Water Technologies to offer a wastewater treatment solution with 100% energy autonomy.
 
Principles
Ecodisk™ Solar can also be fully integrated into a wastewater treatment system by a combination of pretreatment. A minimal screening is suggested to keep big particles. Pretreatment can always be enhanced like anoxic chamber or digester-settler structure.
Ecodisk™ Solar working principle is quite simple but also efficient. In additon to Ecodisk™ system, the solar units containing a lithium battery, can be integrated any external panel solution to achieve an energy circular solution inwhich the daily electrical consumption will be compensated by solar energy.
 
Ecodisk™ Solar: many types of installations
Solar powered units propose 100% energy autonomy and perfectly matches off-grid areas as :
Rural and peri-urban communes.
Camp sites and isolated camps.
Small hotels, resorts and vacation homes.
Shelters or residences in high mountains.
Contact
If you have any questions about our products and their application, please do not hesitate to contact us.
brochure
For further details on Ecodisk™ Solar, please don't hesitate to download our brochure.
PMT and Veolia provide a turnkey service
Specialised in mobile water treatment units and fixed wastewater treatment plants, Veolia Water Technologies provides public authorities and private customers with ongoing assistance to make the most of Ecodisk™ devices. PMT's engineering teams can provide onsite assistance at any time in France, Germany and anywhere within Europe – whether it's an emergency repair or routine check.
Elsewhere in the world, PMT's customers can rely on the logistics of Veolia Water Technologies as well as a dense network of distributors, fully trained in the technical specificities of PMT products.
With Ecodisk™, your community or business can finally opt for a complete domestic wastewater treatment solution, which is 100% ecological and economical in terms of maintenance and energy consumption.