PMT Life: what is it?
PMT Life proposes a variety of services where all the critical elements of Ecodisk™ and Ecosim™ are under surveillance.
 
Principles
PMT Life composes several packages serving different purposes. Each package has its own benefits depending customer expectation.
PMT Service : Exclusive services for the periodic maintenance  with the expertise of your local supplier + periodical inspections and interventions on site.
PMT Time : Guarantee extension up to 10 years in addition to the implementation of the service contract  and the spare parts service.
PMT Parts : Complete spare parts list is supplied in PMT's stock to reduce the logistics management, arrange the immediate replacement in case of maintenance, fault or damage which will increase in this way the products' efficiency
PMT Digital : Installation of sensors allowing to transmit in real time data of your unit + Data analysis by your service distributor + 24/7 accessibility
PMT Portal : Providing a dedicated portal under Hubgrade.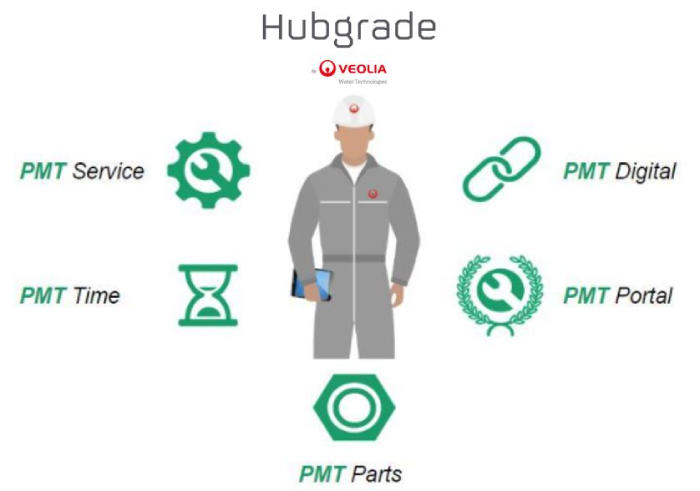 Contact
If you have any questions about our products and their application, please do not hesitate to contact us.
brochure
For further details on PMT Life, please do not hesitate to download our brochure.
PMT and Veolia provide a turnkey service
Specialised in mobile water treatment units and fixed wastewater treatment plants, Veolia Water Technologies provides public authorities and private customers with ongoing assistance to make the most of Ecodisk™ devices. PMT's engineering teams can provide onsite assistance at any time in France, Germany and anywhere within Europe – whether it's an emergency repair or routine check.
Elsewhere in the world, PMT's customers can rely on the logistics of Veolia Water Technologies as well as a dense network of distributors, fully trained in the technical specificities of PMT products.
With Ecodisk™, your community or business can finally opt for a complete domestic wastewater treatment solution, which is 100% ecological and economical in terms of maintenance and energy consumption.