Ecodisk™ M: what is it?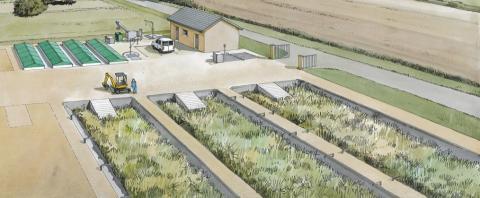 Ecodisk™ M is developed by PMT and OTV, another Veolia Water Technologies subsidiary, to offer a more ecological wastewater treatment solution by combining biodiscs with reed beds in the downstream. This combination perfectly matches for remote areas in rural zone where operation and maintenance should be handled quasi-autonomous.
 
Principles
Ecodisk™ M can also be fully integrated into a wastewater treatment system by a combination of pretreatment. A minimal screening is suggested to keep big particles. Pretreatment can always be enhanced like anoxic chamber or digester-settler structure.
Ecodisk™ M working principle is quite simple but also efficient. In the downstream of a classical Ecodisk™ system, reed beds are placed to ensure the secondary clarification and sludge storage.
 
Ecodisk™ M: example installations
Projects based on especially rural areas where the surface area is not a constraint, will be a perfect potential for the application of Ecodisk™ M. Some of the references include :
Treatment capacity of 4,400 EH and a disk area of 41,300 m², the site of Wissant (Pas-de-Calais) is one of the largest in the region.
Ecodisk™ M at the Naviti Resort in Fiji Islands, wastewater treatment for 1,200 PE.
Ecodisk™ M in Rathewalde, Germany, is a renovated facility delivering a capacity of 1,000 PE.
Contact
If you have any questions about our products and their application, please do not hesitate to contact us.
brochure
For further details on Ecodisk™ M, please do not hesitate to download our brochure.
PMT and Veolia provide a turnkey service
Specialised in mobile water treatment units and fixed wastewater treatment plants, Veolia Water Technologies provides public authorities and private customers with ongoing assistance to make the most of Ecodisk™ devices. PMT's engineering teams can provide onsite assistance at any time in France, Germany and anywhere within Europe – whether it's an emergency repair or routine check.
Elsewhere in the world, PMT's customers can rely on the logistics of Veolia Water Technologies as well as a dense network of distributors, fully trained in the technical specificities of PMT products.
With Ecodisk™, your community or business can finally opt for a complete domestic wastewater treatment solution, which is 100% ecological and economical in terms of maintenance and energy consumption.