PMT DLE : what is it?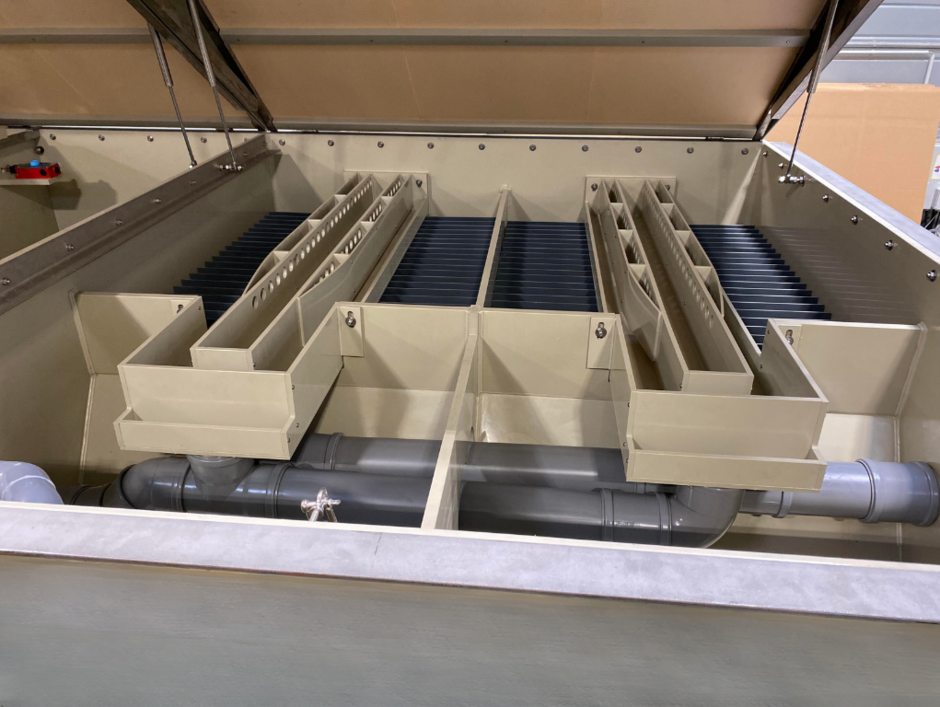 PMT DLE is a conventional clarification unit enhanced by lamella plates. Due to its autonomous operation and  easy maintenance aspects, it's commenly prefered by PMT customers. With some external adjustements PMT proposes a robust process for prilary or secondary clarification in municipal or industrial domains.
One of the important advantages of PMT DLE, is actually its integration capacity through other PMT products. It can be coupled with Ecodisk™, Ecosim™ and also it can be proposed seperately with an MBBR Pack. With the help of the clarification step, the consumer have a complete biological solution to reach the required discharge standards.
 
Principles
Upcoming wastewater is continuously fed at the bottom of lamella settler and the water will rise against the gravitational force. Lamella plates create a larger surface area which increase the settling efficiency. The clarified water will pass a complex weir system which collects also floating sludge in any case. An electro-valve is automatically activated to evacuate any surging flows. Lamella settler consists one or two sludge pumps for periodic sludge evacuation.
 
PMT DLE: many types of installations
Lamella clarifiers are an efficient technology specifically designed for the needs of communities and small and medium-sized sites. This type of installation can meet the specifications as:
Rural and peri-urban communes.
Camp sites and isolated camps.
Hotels, resorts and vacation homes.
Hospitals and other health facilities.
Schools and universities.
Shelters or residences in high mountains.
Contact
If you have any questions about our products and their application, please do not hesitate to contact us.
Brochure
For further details on Lamella Settler (DLE), please don't hesitate to download our brochure.
PMT and Veolia provide a turnkey service
Specialised in mobile water treatment units and fixed wastewater treatment plants, Veolia Water Technologies provides public authorities and private customers with ongoing assistance to make the most of Ecodisk™ devices. PMT's engineering teams can provide onsite assistance at any time in France, Germany and anywhere within Europe – whether it's an emergency repair or routine check.
Elsewhere in the world, PMT's customers can rely on the logistics of Veolia Water Technologies as well as a dense network of distributors, fully trained in the technical specificities of PMT products.
With Ecodisk™, your community or business can finally opt for a complete domestic wastewater treatment solution, which is 100% ecological and economical in terms of maintenance and energy consumption.