Ecosim™: what is it?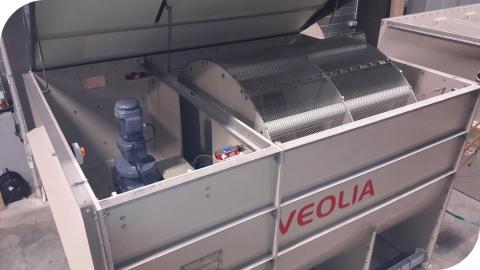 Ecosim™ is the latest technology developed by Veolia Water Technologies, thanks to the strong alliance between two subsidiaries; Anoxkaldnes and PMT.
Technology formed by a patented drum and a volume of patented mbbr media . Due to its large treatment surface Ecosim™ is 300% more compact than an equivalent Ecodisk™ solution which gives him a great advantage on the aspects as footprint, modularity and transportation.
 
Principle
Ecosim™ mainly consisted of a rotational drum and MBBR carriers within it. Wastewater transporting organic pollution arrives to main compartment after at least a coarse screening.  With the precalculated retention time, there will be growth of the biofilm on the surface of chips. During the immersion phase, bacteria degrade and consume the organic pollutant load. And during emersion phase, bacteria breath and consume oxygen. The drum rotates around the stainless steel shaft with an approved velocity helping biofilm growth until a limit thickness, the excess biofilm will detach automatically by physical forces coming with rotational movement.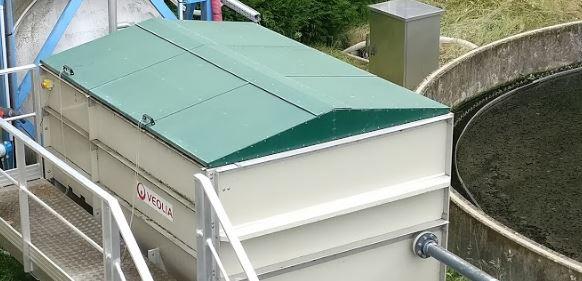 Ecosim™ can also be fully integrated into a wastewater treatment system by a combination of pretreatment. A minimal screening is suggested to keep big particles. Pretreatment can always be enhanced with an anoxic chamber or a digester-settler structure.
In operation, the Ecosim™ is silent and odorless.
The core avantages of the technology are :
Compact design (300% smaller than a conventional Ecodisk™ solution)
Easy upgrade (adding extra carriers in necessity)
Adaptable to seasonal variations
Simple operation with effective treatment approach
No blower usage => Low electrical consumption => low OPEX
Easy maintenance / No necessity of an expert presence on site / Weekly visit
No noise / no odor
Contact
If you have any questions about our products and their application, please do not hesitate to contact us.
Brochure
For further details on Ecosim™, please don't hesitate to download our brochure.
PMT and Veolia provide a turnkey service
Specialised in mobile water treatment units and fixed wastewater treatment plants, Veolia Water Technologies provides public authorities and private customers with ongoing assistance to make the most of Ecodisk™ devices. PMT's engineering teams can provide onsite assistance at any time in France, Germany and anywhere within Europe – whether it's an emergency repair or routine check.
Elsewhere in the world, PMT's customers can rely on the logistics of Veolia Water Technologies as well as a dense network of distributors, fully trained in the technical specificities of PMT products.
With Ecodisk™, your community or business can finally opt for a complete domestic wastewater treatment solution, which is 100% ecological and economical in terms of maintenance and energy consumption.